We're excited to be featured at Ypsi Alehouse for the First Fridays event on July 8th and for a follow-up Live!–Swig!–Dye! event on July 16th. We'll be starting the events at 4 PM, and earlier on July 16th, so arrive early with your whole family for some fun. We welcome kids and late arrivals, andyou can come in and dye any time! Just drop in!
Our process is different from the tie-dye you may be used to. We call them art dyes, because we use discharge (bleaching) agents and a special type of dye called vat dye – but mainly because the results are sophisticated, complex, and beautiful.
Art dyeing is also easy, requires no artistic talent, and is suitable for the whole family. Come join us! and feel free to contact us if you have any questions.
A Fun Experience for You and Your Whole Crew – Start Now with a Movie!
How much does it cost?
It's cheap! It's fast! And we offer great couple and family deals!
A high-quality tee is $20, kids tees and do-rags are $10. Special offers include a free kids tee with two adult tees and two adult tees for $30. Bring a group, we'll cut you a deal!
Want something besides a tee? Bring your own all-cotton, colored garment and we'll help you dye it for only $10!
The whole process takes about half an hour, and for about half that time we're discharging or dyeing your shirt, so you can grab a beverage and watch!
What is a Live! Swig! Dye! Funshop?
Live-Swig-Dye is an event where participants (that's YOU) learn how to create beautiful art dyes by making them under our direction. We use unique methods including two types of discharge (bleaching) and a special class of dyes called vat dyes. This all means that you don't have to worry about getting dyed (and we provide aprons, gloves, and goggles so you don't get bleached), and you get a beautifully color-balanced artwork with complex and interesting designs. Take a look at the Dark Fire tee image above to see an example of the results – click on it to see a full-sized image.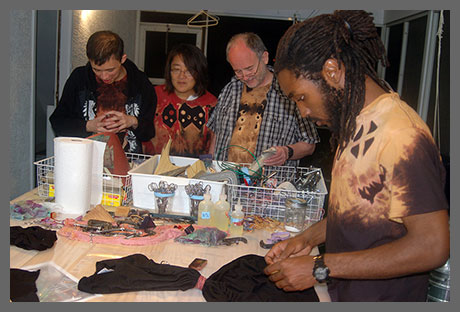 A Live Dye Funshop with Haiyan, Rainer, and Judah under my son Craig Ransom's supervision - creating as we discover fun.
How Does It Work?
We work with our clients (breweries, wineries, &etc.) to place our events where you can Swig some fine libation while participating. We recommend you start by grabbing a glass of a fine Michigan-made brew.
You will start by applying various resist methods to keep the bleach from discharging the garment's base color (we start with pre-dyed items). These methods include tying, clamping, twisting, folding, rubber-banding, and others. Once finished, we will use the bleaching agent, and then neutralize the bleach to protect the fibers.
Next you will apply more resists, and then we'll put the pieces in the vat dye. This is the point where we typically have another libation. Relaxing!
Finally, we unwrap the finished pieces. It's like unwrapping presents. You will be surprised and excited by how beautiful the results of our simple techniques can be! And then we do it all again so you have a chance to use your new skills on a second piece.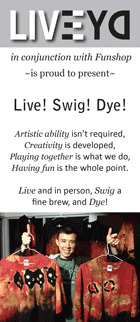 Live-Swig-Dye Brochure (click here to download)
Where do I find a Live-Swig-Dye? How can I host one?
Check out our Live Dye Events Calendar below to find our next scheduled event, then click the event to find registration details. If you'd like to host a Live-Swig-Dye event, you can download a brochure and our list of requirements for clients. In short, we need access to sufficient space (about 20' x 30', outdoors is fine), a hose spigot, a single 110 V plug, and access to your sanitary sewer. For venues with a septic system, we can also haul our waste water offsite for proper disposal. Contact us for details! We'll bring you a lot of eager new customers!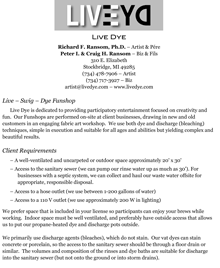 Live-Swig-Dye Client Requirements (click here to download)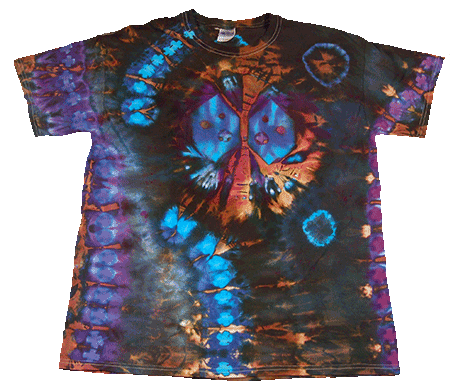 (click images to see a bigger version)
(just click on the heading above to go to the first page of our Buy a Live Dye! pages)
I'm Richard Ransom, and Live Dye is the place I've created to showcase the work we do in fabric arts. Here you can see the work I've done with my sons and others to create beautiful art using techniques commonly called "tie-dye." Visit our Galleries to see our designs, and visit our Techniques to begin to learn to do it yourself by reading our best step-by-step advice and watching our videos (coming soon). We have fun making our art, and we've developed that into a sister business, Funshop, where we teach both our techniques and how to have more fun in your life. We take fun seriously, and love our work – we know you'll feel the love and experience the fun if you wear a Live Dye garment, read about our techniques or The Fun Manifesto, or participate in a Live Dye Funshop. In the meantime: Welcome to Live Dye, and enjoy!
Why Live Dye?
Because You're Unique – And So Is Our Art
We make unique pieces – each one an individual work of art. We don't make commodities or mass-produce anything, so when you wear a Live Dye, you are wearing a one-of-a-kind artwork, not a copy. We also use a unique combination of techniques with our pieces, including bleach discharge, thiourea dioxide discharge, vat dyes, and fiber-reactive dyes – a variety that others don't bother with because they're challenging, and time-consuming, and require careful design. Look around the web and see – no one else is doing what we're doing. Why do we do it? Because it gives our pieces a depth, complexity, and sophistication that you can't get by spinning a shirt and slathering it with dye. We think it's worth the trouble, because we want you to notice the difference. We love it – and think you will too.